SaniSpace


Commercial Disinfection Services
Virus  |  Bacteria  |  Biohazard
Protect your staff, vendors & customers with our professional disinfection & deodorization services.
Clean. Disinfect. Deodorize.
Turnkey Solutions from GC Logistics
GC Logistics is proud to provide SaniSpace – full-service commercial cleaning, disinfection & deodorization services to all manner of commercial enterprises. Our proven LVHP fogging system (Low Volume / High Pressure) treats all surfaces and permeates air filtration systems to eliminate virtually all dangerous bacteria, viruses, allergens, and other harmful particles that could cause illness. We use only those disinfection agents recommended by the United States Center for Disease Control to ensure safety and effectiveness.
Complete coverage of air and surfaces

No residue

No cleaning waste

Safe for electronics

Faster and more effective
Fragrance Free and Safe
All of our disinfecting and sterilizing services are fragrance-free to avoid allergy triggers, as well as keeping with standards that help protect the world's food, water, consumer products, and the environment. This ensures that our product is safe for use on surfaces where food can be placed. Our disinfecting foggers do not irritate the skin, eyes, or lungs—and they are non-corrosive and safe for use on sensitive kitchen appliances and electronics.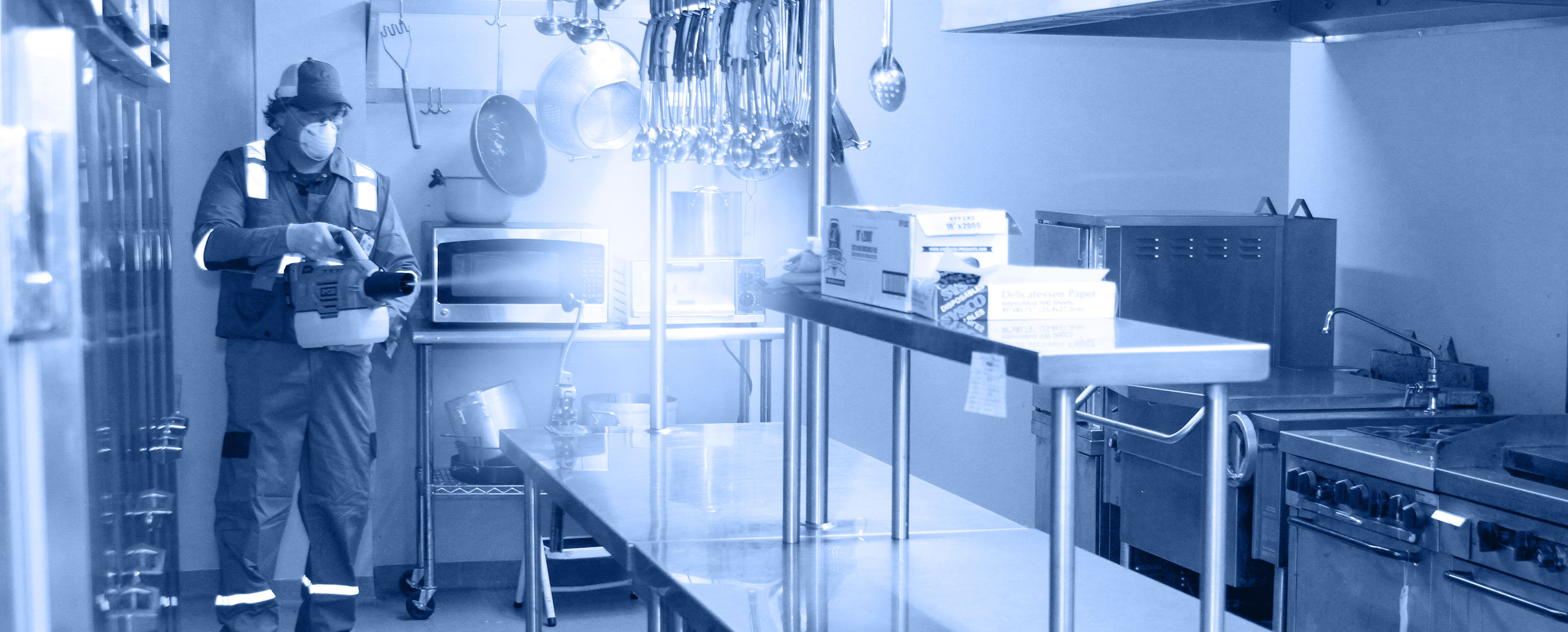 Perfect For…
Restaurants
Commercial Kitchens
Daycare Facilities
Warehouses
Business Offices
And More
Effective Against…
Accidental Biohazard
Pest-driven Biohazard
Surface Germs & Bacteria
Airborne Bacteria & Viruses
Mold and Mildew
Cross-contamination
Effective on Hard Surfaces:
Tables and Countertops
Doors, Knobs, Walls & Ceilings
Appliances
Hard Flooring (including tile & grout)
Effective on Permeable Surfaces:
Tablecloths
Rugs and Carpeting
Furniture Upholstery
Curtains and Draperies
SaniSpace Disinfecting Service is confirmed effective against nearly 150 viruses and bacteria—and counting:
Coronavirus COVID-19
Influenza A Virus
T4 & T1 Bacteriophage
Canine Coronavirus, Distemper & Herpes Virus
Listeria
Salmonelia (All types)
Staphylococcus (All types)
Strephylococcus (All types)
And More
Protect your staff, vendors & customers with our professional disinfection & deodorization services.